Statistics Canada conducts visitor evaluations of its website regularly to ensure that the design and content of the website stay in step with visitors' changing needs.
Website traffic
Website metrics and traffic trends are reviewed for the purpose of understanding and optimizing Web usage. Chart 1 shows visits to the Statistics Canada website through the years.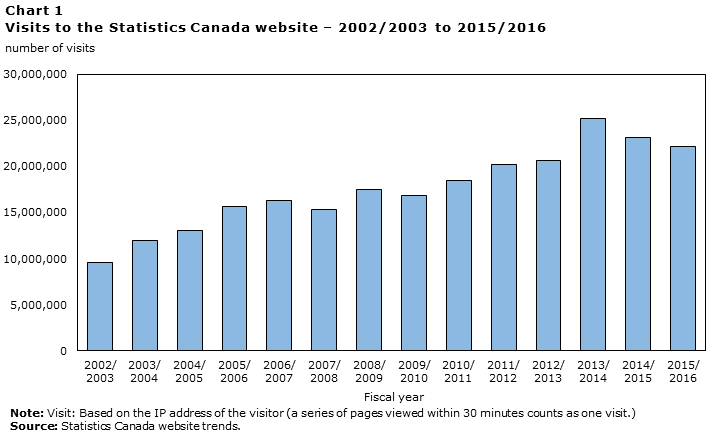 Description for Chart 1

Chart 1 Visits to the Statistics Canada website – 2002/2003 to 2015/2016
Fical year
Number of visits
Note: Visit: Based on the IP address of the visitor (a series of pages viewed within 30 minutes counts as one visit.)
Source: Statistics Canada website trends.
2002/2003
9,576,385
2003/2004
11,953,959
2004/2005
12,999,738
2005/2006
15,594,311
2006/2007
16,340,117
2007/2008
15,326,781
2008/2009
17,527,421
2009/2010
16,786,730
2010/2011
18,448,670
2011/2012
20,190,456
2012/2013
20,658,574
2013/2014
25,217,504
2014/2015
23,171,046
2015/2016
22,175,480
Information about the protection of personal information of visitors to the Statistics Canada website is available on our Privacy notice page.
Visitor satisfaction
In March 2016, Statistics Canada sought feedback from website visitors on topics that included task completion success rates and overall satisfaction with the website.
For more results and information, go to our Statistics Canada's Website Evaluation 2016 page.